Aside from the object list and current guests, the sidebar shows you a list with vacant unit types: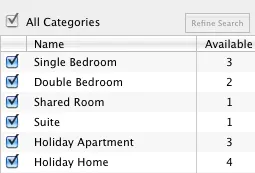 The list depends on the time frame defined at the top right corner of the reservation schedule and is adjusted automatically when the time frame is changed.

Note:
You can turn this automatic display off in the Preferences. This can be a good idea if you don't need that information and are having problems with a slow-running program.
It is also refined depending on which objects you have selected and deselected. A deselected object's units will not be counted towards "available".