First login as Administrator (SysAdmin)
In Lodgit Desk, you have the possibility to create specific user profiles for your employees with the additional module 'User Management'. Particularly in larger accommodation businesses, where several people work with Lodgit Desk, you can control access rights to functions and data sets.
For the use of this module you have the possibility as a system administrator (SysAdmin):
take over predefined roles for different users (e.g. management, reception) or
on the basis of these predefined roles, to assign individual access areas to people.
After you have purchased the User Management module in our store, please update your license data first. The login window will appear automatically.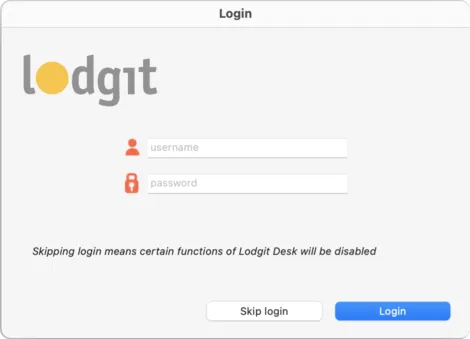 Enter the following here and then click Login:
username: admin
password: admin
You are now logged in as a system administrator and have all rights and unlimited access to Lodgit Desk.
However, the first thing that appears is a security notice with a request to change the admin password. You can do this in the account settings (see below).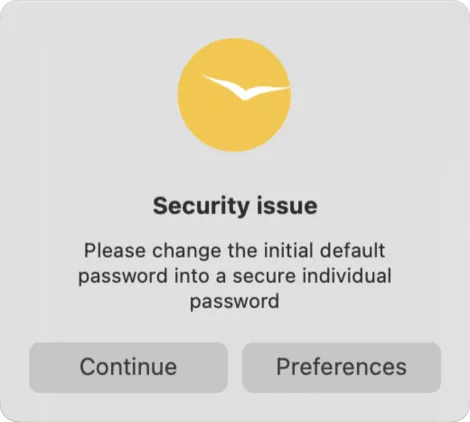 Login und Logout
The program bar shows that you are logged in. The user name of the person logged in (in this case Maria dos Santos) is displayed here. In addition, the yellow Logout icon is displayed.

If you click Skip login, you will only be able to view the booking plan and the booking list. Editing any data in Lodgit Desk is not possible. The Restricted access message and the Login icon will appear in the program bar.

Change Passwords
Navigate to Settings > Account Settings, enter the default password admin and then a new password of your choice. Repeat the password and confirm the process with Update password.
Here, after creating a role, all users of Lodgit Desk can also change their passwords.
Note: Your password must be at least 8 characters long. It must also have at least 3 of the following characteristics: Upper case letter, lower case letter, number, special character.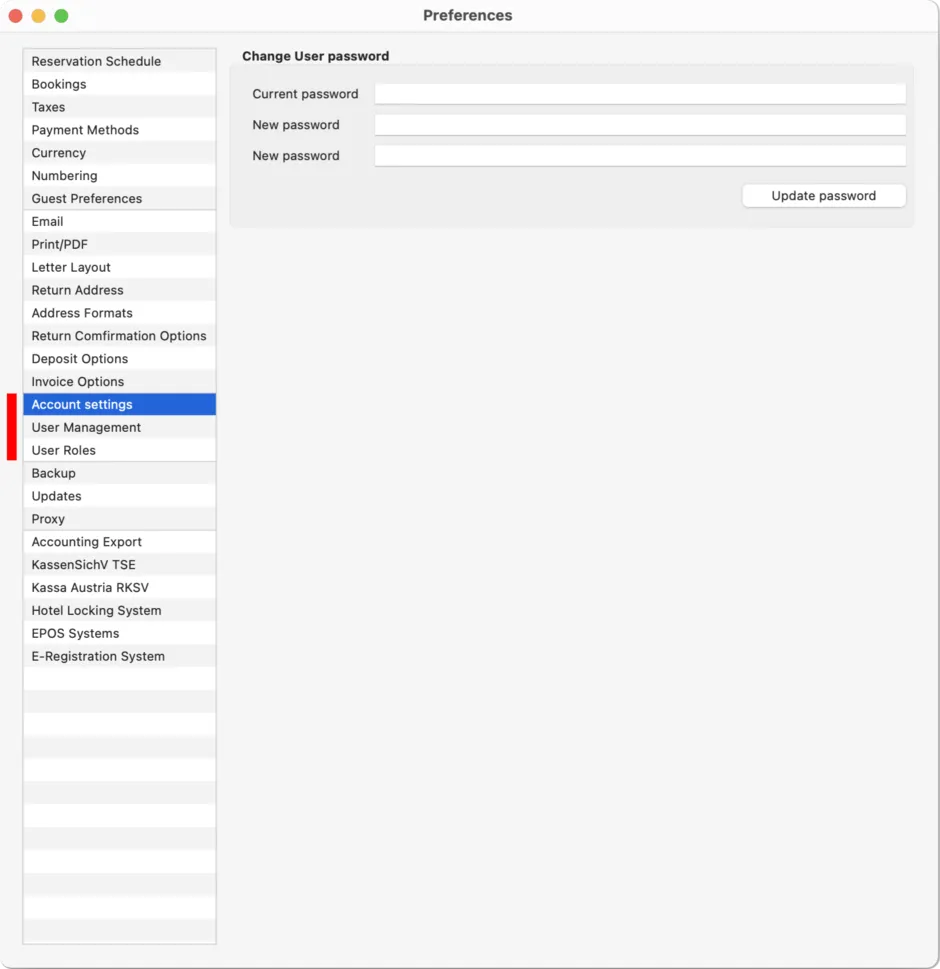 In the next step, you can now assign different profiles to all your employees.