To open the Guest Management, go to Administration > Guests in the menu bar or click on the button Guestsjust above the reservation schedule.
The Guest Management window will open. This window is divided into 3 areas.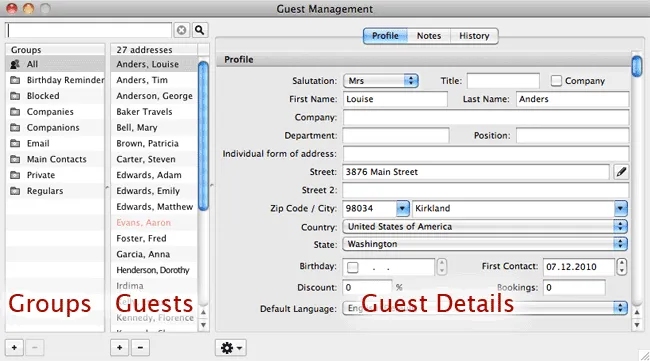 Note:
When you open the Guest Management, you will be notified that the international zip code database is now available for download. Press "Yes" to open the window for downloading the database. If you don't want to download the database at the moment, press "No". You can download the database at any time by going to "Administration > Additional Modules > Install Zip Code Database…".
Groups & Guest List
When selecting a certain group, the members of this group will be shown in the guest list on the right. The group All contains all guests in the Guest Management. Below this group you will find several automatic groups that were created by Lodgit Desk and are filled automatically (e.g. "Companies" contain all members that are a company). You can also add your own groups that you can use when sending serial letters, for example.
You can now choose from the following actions:
Guest details
The area guest details is once again divided into the areas profile, notes and history. This area contains all of the guest's information that you have selected in the guest list.
The profile will offer you the following actions:
Under Notes you can do the following:
Under History you can do the following:
Tip:
If you click on an area header within the guest profile (Profile, Communication or More Information) you can hide that section. That way, you don't have to scroll all the way down!