You have two options to create a new booking in Lodgit Desk:
you can draw it into the reservation schedule,
you can open a new booking window, or
you can use the Booking Assistant to quickly generate a (group) booking.
Draw booking into reservation schedule
Click the button Draw

. If you now hover your cursor over the reservation schedule, you will find that it is now a pencil symbol.
Click and hold the left mouse button in the unit you want and the arrival date, then drag to the right until you have reached the departure date for the booking. This will "draw" a booking with the status Tentative into the reservation schedule at the time you have specified.


After you have penciled in a new booking, the mouse mode automatically goes back to Select, so that you can open the booking window.
The automatic switch back to the Select mode after a new booking has been penciled in can be deactivated temporarily by holding down the SHIFT key while drawing the booking. This is especially helpful when drawing bookings for a group reservation.
This will keep the Draw mode active until you release the SHIFT key, or click the button Select at the top of the reservation schedule, or double-click on one of the recently drawn bookings.
Note: 
Selected bookings can be duplicated in the reservation schedule. This is helpful when you have a guest that often comes back and books the same things, because duplicating a booking will also duplicate all the booked extras as well.
Create bookings in the booking window
Go to Bookings > New… This will open the booking window to create a new booking.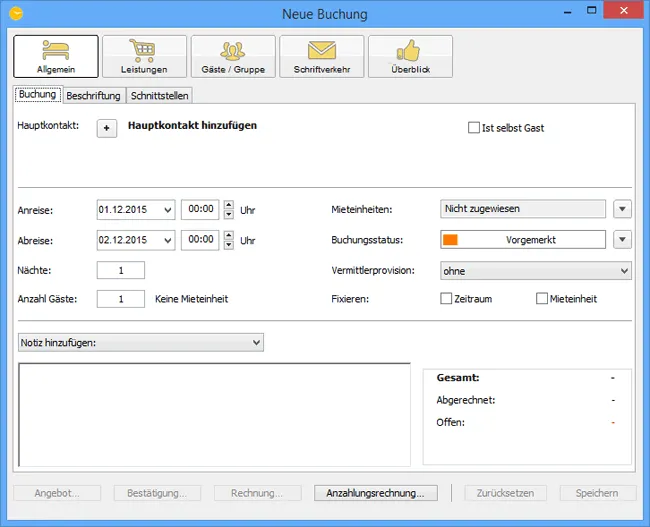 Enter the arrival and departure date in the booking window and select a unit. Please don't forget to add a main contact.
Note:
When creating a new booking using the New… feature, the program will show your vacant and occupied units during the time frame you have specified. Important: The number of guests you have specified is also a factor in determining whether a unit is vacant, i.e. available for this booking.
When you close the booking window, the new booking will be added automatically to the booking window.