Lodgit Desk helps you with the analysis of your accommodations based on the home countries of the guests. This will make it much easier to report the statistics because the official country codes are used and you can use these reports to pass on to your statistical office. The analysis not only lists overnight stays but also arrivals and departures.
This window will open if you go to Lists > Country Report in your menu bar. In the drop down menu "Time Frame" you can select months, quarters, six-month-periods or even entire years for this report.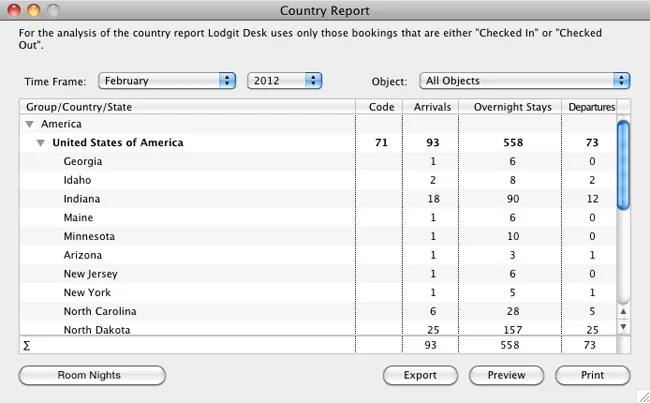 In this window you also have the option to show the statistic for only one object instead of all of them by selecting the object in the drop down menu.
By clicking the button Room Nights you will be forwarded to the Occupancy / Performance Indicators window. There you'll find the number of room nights for the time frame selected in the country report (nights*units).
Note:
You can show or hide certain groups, by pressing the arrow button next to it. Hidden groups will not be used for the statistic and will not be shown on a printout.