Lodgit Desk lets you export all invoice information as CSV, XLSX or DATEV files, letting you import this information into your accounting software.
Important:
If you want to make use of the accounting export, you first have to add the account numbers for payment methods, extras, etc. within the Preferences and the Extras Management!
Navigate to the menu item Lists > Accounting Export to open the following window: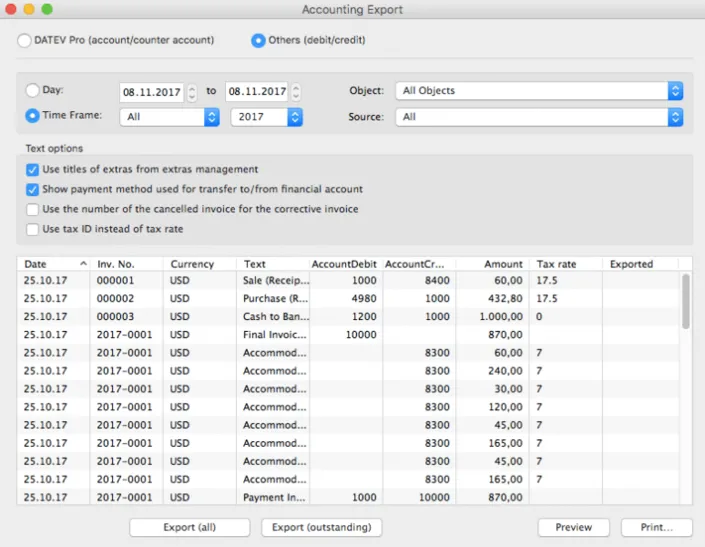 You can first select the type of export you want to be doing: Either a DATEV Pro export, which is specifically designed for the software DATEV Pro. Or a debit/credit export, which can be used in other bookkeeping software.
Now you will see the details for all invoices and receipts created in Lodgit Desk. As text options, you can choose whether you want to use the extras titles from the extras management or the edited titles from the booking, whether you want to list the payment method used for payments made, whether you want to use the number of the original ("corrected") invoice instead of the actual one for corrective invoices and whether to use the tax rate or tax ID.
You can limit the list by selecting a certain timeframe and/or a single object. You can also select whether you want to see all revenue, or just revenue created from receipts or invoices.
The checkmark in the column Exported lets you know that these list items have already been exported. These will not be exported again if you click the Export (outstanding) button (recommended). Clicking Export (all) will export everything which is in the current view regardless of whether an item has or has not been exported already.
You can export the list into a CSV or XLSX file by pressing the button Export. First, select the location for the file and in the next window you can define the settings: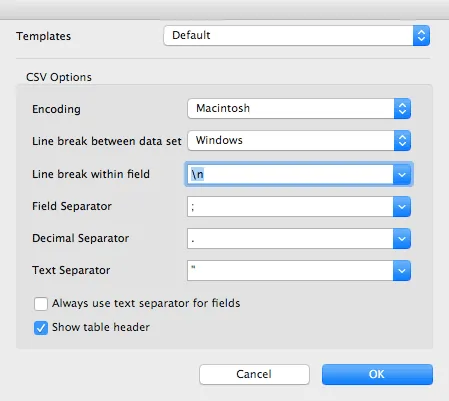 Please make sure that your selected settings are the same as the import settings of your accounting software.
If you're using DATEV:
Please note that your invoice and other numbers may only be 121 characters long in total. Change your numbering in settings if necessary.